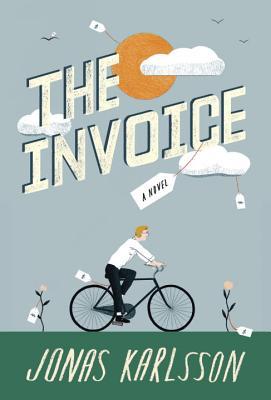 Summary:
A passionate film buff, our hero's life revolves around his part-time job at a video store, the company of a few precious friends, and a daily routine that more often than not concludes with pizza and movie in his treasured small space in Stockholm. When he receives an astronomical invoice from a random national bureaucratic agency, everything will tumble into madness as he calls the hotline night and day to find out why he is the recipient of the largest bill in the entire country.
My take: 4 looks (and a tiny spoiler alert)
As is my usual, if I read a book in one sitting, it automatically gets 4 looks.
This book was such a treat! An extraordinary premise, to be invoiced for the experiences you've had in life ("You didn't think it was all for free, did you?"), this was unlike any other book I've read. Much like Karlsson's previous novel,
The Room
, this story is unique, eccentric, sweet, and totally believable ... as long as you suspend belief.
And that is the way of the story. The protagonist, what is his name... how can I not have realized that we never learn his name?? I know his childhood, his great love, moments that he treasures, his favorite scene in his favorite movie ... but never his name.
The genius of Karlsson's writing is so subtle and subversive, it could knock a sphere on edge. This is, I think, a book that you will either love or hate. I wanted a little more, and I wanted to better explore the path that this was all a hoax. Those are the reasons for my review of 4 instead of a 5. All the same, I very definitely fall in the former category of feeling. Highly recommended.