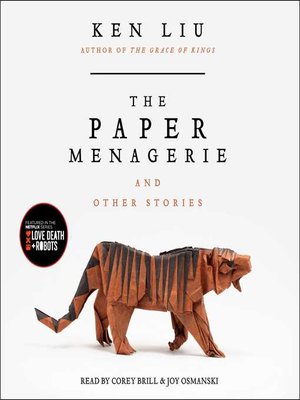 Summary:
With his debut novel,
The Grace of Kings
, taking the literary world by storm, Ken Liu now shares his finest short fiction in
The Paper Menagerie
. This mesmerizing collection features all of Ken's award-winning and award-finalist stories, including: "The Man Who Ended History: A Documentary" (Finalist for the Hugo, Nebula, and Theodore Sturgeon Awards), "Mono No Aware" (Hugo Award winner), "The Waves" (Nebula Award finalist), "The Bookmaking Habits of Select Species" (Nebula and Sturgeon award finalists), "All the Flavors" (Nebula award finalist), "The Litigation Master and the Monkey King" (Nebula Award finalist), and the most awarded story in the genre's history, "The Paper Menagerie" (The only story to win the Hugo, Nebula, and World Fantasy awards).
A must-have for every science fiction and fantasy fan, this beautiful book is an anthology to savor.
My take: 5 looks
It took me a while to read this one because I had to pause at the end of each story, sometime for days, to think about it, mentally study it, and allow it to enter my memory stores where it wanted to reside. The stories are varied in length, are wide in range and subject, and are all unforgettable.
When I started with "The Bookmaking Habits of Select Species", I knew this would be unlike anything I'd read lately. And it just got better from there. A sly combination of history lesson, science fiction, revisionist history, and social commentary, Liu deserves every award and accolade he has received for this compilation, which are numerous.
I highly recommend this gem. Here are a few memorable quotes:
"We have always faced a precarious existence, suspended in a thin strip on the surface of this planet between the fire underneath and the icy vacuum above." Mono No Aware
"The desire to freeze reality is about avoiding reality." Simulacrum
"...a boy stands in darkness and silence. He speaks; his words float up like a bubble. It explodes, and the world is a little brighter, and a little less stiflingly silent." A Brief History of the Trans-Pacific Tunnel
Thanks to NetGalley for an advanced copy of this book in exchange for my honest opinion.