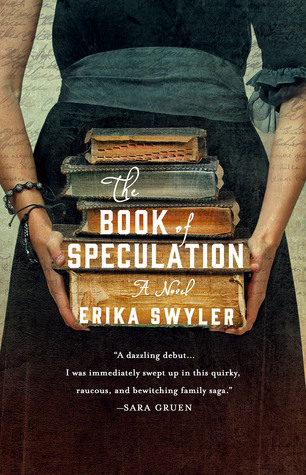 Summary:
Simon Watson, a young librarian, lives alone on the Long Island Sound in his family home, a house perched on the edge of a cliff that is slowly crumbling into the sea. His parents are long dead, his mother having drowned in the water his house overlooks.
One day, Simon receives a mysterious book from an antiquarian bookseller; it has been sent to him because it is inscribed with the name Verona Bonn, Simon's grandmother. Simon must unlock the mysteries of the book, and decode his family history, before fate deals its next deadly hand.
My take: 3 looks
Not at all what I expected. It was a blend of mystical realism - dysfunctional family - coming of age rolled into one. It was an easy read, and entertaining, but it didn't quite meet my expectations in the writing.
For example, I was confused by the first-person vs. third-person narration in the book. It may have had rhyme and reason, but it seemed to come and go, not really paving a path that made sense to me. Also, there were characters who I think Swyler intended to evoke compassion, but I found annoying instead. I think the house should have played a more major role, even to the point of becoming one of the characters. Instead it was sent to the side, as a wallflower.
The back and forth in time was a nice touch, and how the past meets the present is interesting, but I lacked too much here to give more than three looks. However, it is recommended.