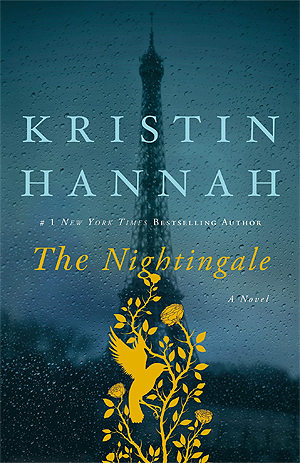 Summary:
In the quiet village of Carriveau, Vianne Mauriac says goodbye to her husband, Antoine, as he heads for the Front. She doesn't believe that the Nazis will invade France...but invade they do, in droves of marching soldiers, in caravans of trucks and tanks, in planes that fill the skies and drop bombs upon the innocent. When France is overrun, Vianne is forced to take an enemy into her house, and suddenly her every move is watched; her life and her child's life is at constant risk. Without food or money or hope, as danger escalates around her, she must make one terrible choice after another.
My take: 4 looks
This is historical fiction at its best. Here is a story of bravery, family, adversity, struggle, and at the heart of it all, a father and two sisters. The backdrop is World War II Paris, but WWII by no means takes center stage here.
In a publishing world where WWII and Holocaust books are prevalent, The Nightingale shows the raw humanity and evil on both sides. There are decisions as tough as Sophie's Choice, and brutality as real as Schindler's List. Hannah traverses these roads deftly as the reader is taken into the villages, hillsides, waiting in rationing lines, and seeing everything you've ever loved and worked for pillaged at the hands of the enemy. At the same time, there is hope, there is family, there is love, and there is a driven desire to do what is right.
I wept at the end of this book. I loved every moment of this wonderfully beautiful story. Highly recommended.