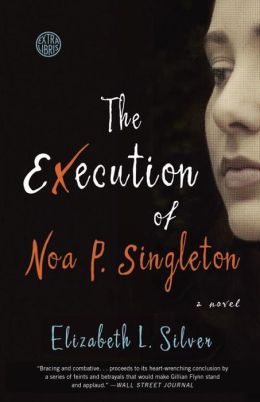 Summary:
Noa P. Singleton never spoke a word in her own defense throughout a brief trial that ended with a jury finding her guilty of first-degree murder. Ten years later, having accepted her fate, she sits on death row in a maximum-security penitentiary, just six months away from her execution date.
Meanwhile, Marlene Dixon, a high-powered Philadelphia attorney who is also the mother of the woman Noa was imprisoned for killing. She claims to have changed her mind about the death penalty and will do everything in her considerable power to convince the governor to commute Noa's sentence to life in prison, in return for the one thing Noa can trade: her story. Marlene desperately wants to understand the events that led to her daughter's death — events that only Noa knows of and has never shared. Inextricably linked by murder but with very different goals, Noa and Marlene wrestle with the sentences life itself can impose while they confront the best and worst of what makes us human.
My take: 4 looks
Book received by and review written for BloggingForBooks.org.
Exquisitely written and beautifully told, this book was a delightful surprise. Noa is no common criminal; that much is clear from the beginning. As her story unfolds, her life turns out to be both tragic and inspiring. Not often would I feel compassion and sympathy for a self-confessed killer, but it is impossible not to like Noa and root for her clemency.
The strong and vividly penned characters in this novel are excruciatingly real. Marlene loves her daughter with a smothering love that many only children will recognize and understand. Caleb feels the regret of a wasted life, resulting in him manufacturing the one he wants...until it seems that he will get it; then he panics. Oliver is wide-eyed with youthful hope and the pure taste of justice. Even Patsmith is fully drawn in my mind, as she walks her own green mile.
Far from predictable, the suspense in what actually happened to Persephone, Caleb, and Sarah is gripping until the end. Silver presents her non-linear story so deftly and seamlessly that is both easy to follow and allows the story to be constructed from inside-out, and numerous angles. The use of letters from Marlene to Sarah is brilliant in presenting a very complex, flawed yet sympathetic character.
Another word about the writing. Silver acknowledges the intelligence, humor and conflicted nature of her reader. The writing is thoughtful and sensitive, as well as non-confrontational about the very sensitive subject of capital punishment. It is also witty and wry, adding a bit of levity at just the right times.
Impossible to put down and indelible in its mark, this is a must-read for the summer! I hope Silver has many, many more novels in her future. My personal library will boast them all.