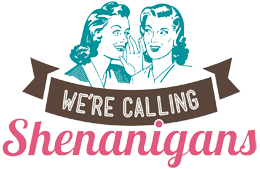 she·nan·i·gans
secret or dishonest activity or maneuvering.:

"widespread financial shenanigans had ruined the fortunes of many"

silly or high-spirited behavior; mischief.
LOVE this word! As you can see, it can have a very serious definition, as in behavior with definite negative consequences. OR, and of course, I prefer the second definition, it can have a playful, fun vibe of silliness.
So, today, engage in some shenanigans ... The second type, please!