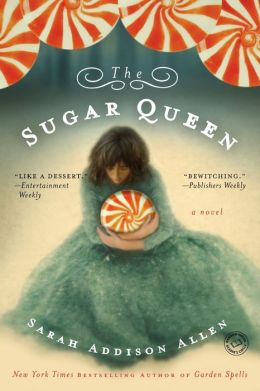 Summary:
Twenty-seven-year-old Josey is sure of three things: winter in her North Carolina hometown is her favorite season; she's a sorry excuse for a Southern belle; and sweets are best eaten in the privacy of her hidden closet. For while Josey has settled into an uneventful life in her mother's house, her one consolation is the stockpile of sugary treats and paperback romances she escapes to each night. Until she finds her closet harboring none other than local waitress Della Lee Baker, a tough-talking, tender-hearted woman who is one part nemesis - and two parts fairy godmother.
My take: 4 looks
Goodness, how I love Sarah Addison Allen books. She is real, whimsical, and mystical all at once. That's quite the combination! And I love books in which books are a main character. And the books in this book are hilarious!
Main character Josey is strong, capable and a little damaged, just like most women in the world. She is a very likable character, and you are rooting for her from the first page.
Surrounded by flawed characters, each person has a struggle to work through, and does so beautifully throughout the story. It's a book about love, overcoming fear, accepting fate, and letting go of the past. Wrap that up with a bow of magically appearing books and the hint of a murder, and you have a delicious reading treat!
Recommended.